In School Challenge Format
For the In School Challenge format, teams will be given a challenge that they will undertake within their own school using their school's own set of EPro8 School Equipment. Teams won't need to travel to other schools. They also have the flexibility for when to work on their challenge.
Teams of four students have "unlimited" time, but limited resources, to complete the challenge.
They will only be able to use:
ONE set of EPro8 School Equipment




Consumables readily available at schools (paper, tape, string)



Common household items (a vacuum cleaner hose, a sun hat, a chair, a phone ...)

Up to $20 worth of additional resources.
Each team will be sent an Entry Certificate. This will contain an Access Code that will give them access to their own personalised EPro8 Workshop Portal.
This is an online portal
in the style of an engineering workshop.
Along with fun and enspiring engineering resources, their
EPro8 Workshop Portal
will contain:
Details of the challenge




Rules




An example solution
The
EPro8 Workshop Portal
is where the teams will submit their solution to the challenge.
Compete Against Local School
You will be competing against the schools your town or district, for the right to represent your town in the regional finals.
There will be a seperate online prizegiving and trophey for each town or district. For example there will be a top Levin team and a top Lower Hutt team.
Qualify for the Regional Finals
The regional semifinals and grand finals will follow our traditional event format, where teams from throughout your region come together for a series of semifinals and a grand final.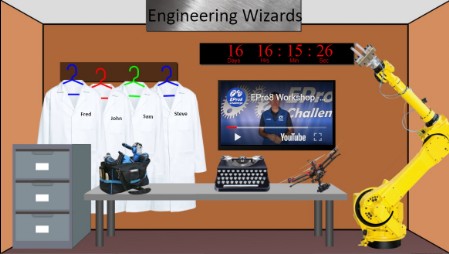 The EPro8 Engineering Portal contains a countdown clock.
At 9:30am on the Monday morning that your challenge opens, one of the EPro8 Engineers will launch the challenge online.
They will explain the rules, tell your teams what we are looking for and how they will be judged.
The challenges will take approximately 4-5 hours to complete.
It is recommended that teams be given access to the equipment for a week so that they can develop their ideas over time.
There is a four week window from when the challenge is launched until entries close. This means four teams could share the one set of equipment.
Teams will complete their challenge, then submit their solution via the EPro8 Workshop Portal.
Their submission will include:
- A video showing their solution
- A team photo featuring their build
- A one page report describing their solution, and answering some practical maths questions about their construction.
There will be clear criteria for how we will judge the entries.
The online prizegiving will occur "live" from within the EPro8 Workshop Portal.
The other good news is that since our costs for this format are much lower, the entry fee will also be much lower. The entry fee will only be $30 per team - (which is the deposit that schools have already been invoiced for their 2020 registrations). This lower price means you can enter more teams. There will be a separate charge for the finals.
Purchasing or Hiring Equipment
For schools that haven't ordered their own EPro8 School Equipment, the $1,100 per school subsidy is still available. For details of the equipment click
here
.
For schools who have not purchased the equipment, we will hire ONE set of EPro8 School Equipment for one week for each of your teams. For example if you enter two teams, you can hire one set of equipment for two weeks.
The cost of hiring the equippment is $90 per week, This means your combined entry fee plus hireage is $120 - the same price as our traditional format of event.
To hire the equipment please email melanie@epro8challenge.co.nz