The 2022 EPro8 Challenge will consist ot three rounds:
An EPro8 Internal Event




The Inter-School Heats




The Regional EPro8 Grand Finals



Auckland, Wellington and Canterbury also have a semifinal round.
Schools can choose to run the Internal Event without taking part in the inter-school events.
The Internal Event is not required for secondary schools. Year 9-10 and year 11-13 teams can enter the inter-school events directly.
The feedback we have received regarding the EPro8 Internal Event (and the EPro8 Classroom Week) has been brilliant, so we have made the EPro8 Internal Event the first round for all parts of the country.
The EPro8 Internal Event is an event that teacher's run within their own school. Now your whole classroom can take part in the EPro8 Challenge. Here is the chance to discover which students have a hidden talent for engineering.
Hire of a classroom lot of EPro8 Construction Equipment (if required)

Challenge Cards (one per team)

Access to the EPro8 Live Scoring System, including the leaderboard and big red buttons

Certificates for the top three teams
The top teams from each EPro8 Internal Event qualify for the inter-school series.
The EPro8 Internal Event can be run as:
As a standalone event




Part of the EPro8 Classroom Week




Part of the

NEW

EPro8 School Week
Schools can run multiple EPro8 Internal Events.
For more details on these options, and which format best suits your school, click below:
We appreciate that for small schools this format may not be viable. If this applies to your school then please contact us at info@epro8challenge.co.nz
EPro8 Inter-School Events
The top teams from the EPro8 Internal Event qualify for the inter-school heats. Heats will be run at locations throughout your region. Twelve teams from local schools will compete at each heat. The top teams will then qualify for the finals series.
In the inter-school events, each team will be located at a workstation, which contains an impressive assortment of easy to use equipment, including gears, motors, wheels, cables, pulleys, lights, joiners, buttons, nuts and bolts, lasers, tools, electronics boxes and aluminium framing.
At the start of the event, teams will be given a booklet containing four challenges. Each challenge will be split into parts which range from easy to challenging.
Teams choose which challenges they wish to complete. Typically the more difficult challenges will be worth more points. They won't have enough time to finish all the challenges. Teams need to be strategic about which challenges best suit their skills and abilities.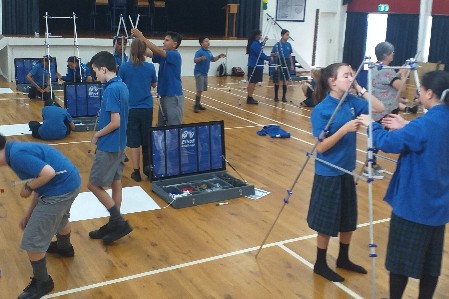 Run your own EPro8 Internal Event at your school.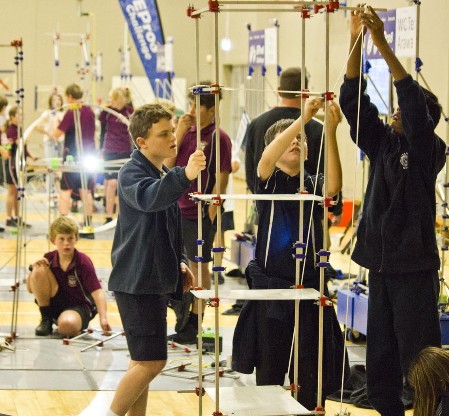 The teams will compete against other schools in your region.